Candy Crush Saga for Android
Candy Crush Saga is a puzzle game involving matches of 3 or more colored candy pieces. You can learn more and download the application from here.
Description
Candy Crush Saga is a popular and addictive puzzle game that has captured the hearts of millions of players worldwide. Developed by King, this colorful and vibrant game offers a delightful experience for players of all ages. With its intuitive gameplay, challenging levels, and charming visuals, this puzzle game has become a go-to game for those seeking entertaining and addictive puzzle-solving adventures.
One of the standout features of Candy Crush Saga is its simple yet engaging gameplay mechanics. Players are tasked with matching colorful candies by swapping adjacent candies to create rows or columns of three or more matching candies. As matches are made, the candies explode, earning points and clearing the board. The game introduces various objectives and obstacles, such as jelly blocks, chocolate squares, and time limits, adding depth and challenge to the gameplay.
Candy Crush Saga offers many levels, each with unique objectives and increasing difficulty. Players can progress through the game's map, unlocking new levels and encountering different game mechanics and challenges. The game also incorporates strategic elements, where players must plan their moves carefully to create powerful combinations and trigger special candies with unique effects.
Beyond its addictive gameplay, Candy Crush Saga incorporates social features that enhance the player's experience. Players can connect the game to their Facebook account, allowing them to compete with friends, share achievements, and request lives or boosters. This social aspect adds a layer of friendly competition and community interaction, making this Android game an engaging and social gaming experience.
Features & Highlights
Simple and addictive gameplay mechanics based on matching colorful candies.
Vast number of levels with unique objectives and increasing difficulty.
Strategic elements and special candies for powerful combinations.
Colorful graphics and appealing visual effects for overall gaming experience
Social features for competition, sharing, and community interaction.
Screenshots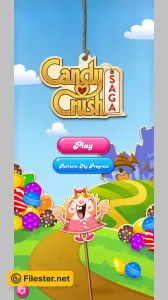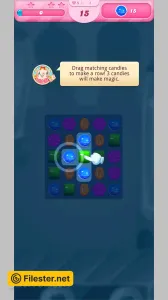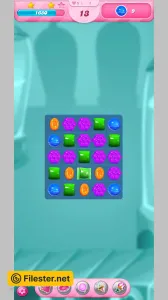 F.A.Q
F.A.Qs are not available yet!
Disclaimer
Filester is a software review and download website. We are against piracy and do not provide any serials, keygens, patches, or cracks for Candy Crush Saga or any software listed here.
We are DMCA-compliant, and you can request the removal of your software from our website through our contact page.