WinRAR for Windows
WinRAR is an archive manager that can compress, view, and unpack RAR, ZIP, and other compressed files. You can learn more and download the application from here.
Description
WinRAR is a powerful and widely used file compression and archiving software that provides a reliable solution for managing and organizing files. Developed by RARLAB, this utility offers a user-friendly interface and a range of features, making it a popular choice for individuals and businesses seeking efficient file compression, extraction, and archiving capabilities. With its high compression ratio and extensive format support, this archiving software simplifies file management and reduces storage space.
One of the standout features of WinRAR is its efficient compression algorithm. The software utilizes advanced compression techniques to reduce the size of files, resulting in smaller archives that are easier to store, transfer, and share. It also supports various compression formats, including the popular RAR and ZIP formats, ensuring compatibility with other compression tools and software.
WinRAR offers a comprehensive set of features for managing compressed files and archives. Users can create new archives, add files to existing archives, or extract files from archives with just a few clicks. The software supports password protection, allowing users to secure their archives and protect sensitive data. Additionally, this tool enables splitting extensive archives into smaller parts, making it easier to distribute or store files across multiple storage devices.
Beyond compression and extraction, WinRAR offers additional functionalities for file organization and management. Users can navigate and browse through the contents of archives without extracting them, saving time and storage space. The software also includes features like file search, file comments, and repair capabilities for damaged archives, ensuring a seamless and efficient file management experience.
Features & Highlights
Efficient compression algorithm for reducing file size.
Support for various compression formats, including RAR and ZIP.
Password protection and encryption for securing archives.
Splitting and spanning options for managing large archives.
File browsing, search, comments, and repair capabilities for enhanced file management.
Screenshots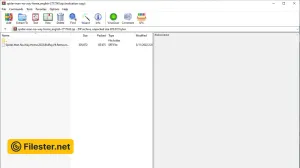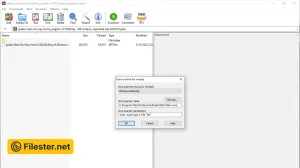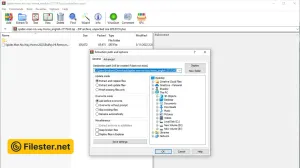 F.A.Q
F.A.Qs are not available yet!
Disclaimer
Filester is a software review and download website. We are against piracy and do not provide any serials, keygens, patches, or cracks for WinRAR or any software listed here.
We are DMCA-compliant, and you can request the removal of your software from our website through our contact page.