Aliexpress for Android
AliExpress is an online shopping app that can help you buy almost everything you want. You can learn more and download the application from here.
Developer
Requirements
Android 5.0 or higher
Category
Last Update
January 28, 2023
Description
AliExpress is a feature-rich platform that offers a seamless shopping experience for customers worldwide. Developed by Alibaba Group, AliExpress provides a vast marketplace where users can browse and purchase a wide range of products directly from sellers across the globe. With its user-friendly interface and comprehensive features, the app brings the convenience of online shopping to your mobile device.
One of the standout features of the AliExpress app is its extensive product selection. With millions of products available in various categories, including electronics, fashion, home goods, beauty, and more, users can easily find and purchase items that suit their needs and preferences. The app offers detailed product descriptions, customer reviews, and ratings, allowing users to make informed purchasing decisions.
The AliExpress app provides a seamless shopping experience with its intuitive interface and easy navigation. Users can search for products using keywords, browse through curated collections, or explore personalized recommendations based on browsing and purchase history. The app offers multiple payment options, including secure gateways, ensuring a safe and hassle-free transaction process.
Beyond browsing and purchasing products, the AliExpress Android app offers additional features to enhance the shopping experience. Users can track their orders in real-time, receive shipping updates, and contact sellers for any queries or concerns. The app also provides a secure buyer protection program, offering refunds and returns in case of issues with the received products. Additionally, the app provides flash deals, discounts, and promotions, allowing users to find great deals and save money while shopping.
Features & Highlights
Extensive product selection across various categories.
Detailed product descriptions, customer reviews, and ratings.
Intuitive interface and easy navigation for a seamless shopping experience.
Real-time order tracking and direct communication with sellers.
Buyer Protection program and access to flash deals and discounts.
Screenshots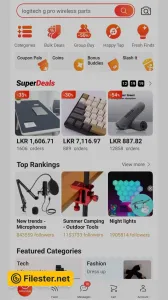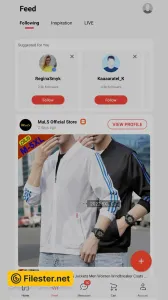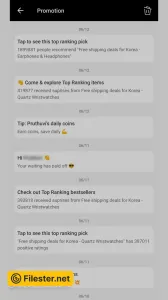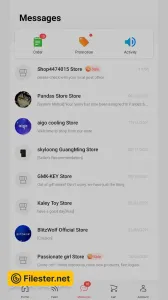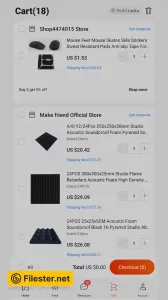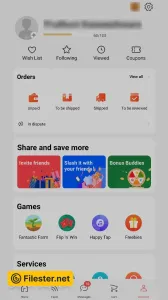 F.A.Q
F.A.Qs are not available yet!
Disclaimer
Filester is a software review and download website. We are against piracy and do not provide any serials, keygens, patches, or cracks for Aliexpress or any software listed here.
We are DMCA-compliant, and you can request the removal of your software from our website through our contact page.