Developer
Requirements
Android 8.0 or higher
Category
Last Update
February 1, 2023
Description
MyFitnessPal Calorie Counter is a powerful tool designed to help users achieve their health and fitness goals by providing personalized tracking and analysis of daily calorie intake and nutrition. With its extensive database of food items, user-friendly interface, and robust features, this is a go-to app for individuals looking to maintain a healthy lifestyle, manage weight, or make informed dietary choices.
One of the standout features of the MyFitnessPal app is its comprehensive food database. With millions of food items, including branded products, restaurant meals, and homemade recipes, users can easily log their meals and track their calorie intake. The app also provides detailed nutritional information, including macronutrients (carbohydrates, proteins, and fats), vitamins, and minerals, allowing users to make informed decisions about their diet.
The MyFitnessPal utility offers personalized tracking and goal-setting features to suit individual needs. Users can set daily calorie targets and track their progress towards achieving them. The app provides a breakdown of calorie intake by meal and allows users to log exercise and physical activity, providing a comprehensive view of their daily energy balance. This personalized tracking helps users maintain accountability and adjust their diet and exercise routines.
Beyond calorie tracking, the MyFitnessPal Android app offers additional features to support overall health and well-being. Users can connect with friends, join communities, and share their progress, fostering a sense of accountability and motivation. The app also offers insights and analysis tools, such as charts and graphs, to visualize progress over time. Additionally, the app integrates with various fitness devices and apps, allowing users to synchronize data and track their overall fitness journey.
Features & Highlights
Extensive food database with detailed nutritional information.
Personalized tracking and goal-setting features for calorie intake.
Exercise and physical activity tracking for a total energy balance.
Social features for support, motivation, and accountability.
Integration with fitness devices and apps for a holistic health-tracking experience.
Screenshots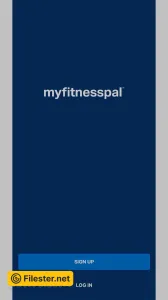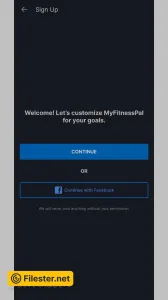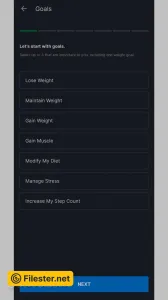 F.A.Q
F.A.Qs are not available yet!
Disclaimer
Filester is a software review and download website. We are against piracy and do not provide any serials, keygens, patches, or cracks for MyFitnessPal Calorie Counter or any software listed here.
We are DMCA-compliant, and you can request the removal of your software from our website through our contact page.