Atom for Windows
Atom is a text and source code editor that's modern, approachable, customizable, and full-featured. You can learn more and download the application from here.
Developer
Requirements
Windows 7/ 8/ 10/ 11
Category
Last Update
March 8, 2022
Description
Atom is a versatile and feature-rich code editor that has gained popularity among developers for its flexibility and extensive customization options. Developed by GitHub, this utility provides a user-friendly interface and a wide range of plugins and themes, making it an ideal choice for programmers of all levels. Whether you're working on web development, software engineering, or data analysis, Atom offers robust tools to enhance your coding experience.
One of the standout features of Atom is its highly customizable nature. Users can personalize their coding environment by installing and configuring various packages and themes. These packages extend the editor's functionality, allowing for features such as auto-completion, linting, version control integration, and language-specific tools. With a vast library of community-developed packages, the source code editor ensures developers can tailor their editor to meet their needs.
Atom provides a seamless editing experience with its intuitive interface and smooth performance. The editor supports multiple panes, allowing users to work on different files simultaneously. It offers powerful search and replace functionalities, making it easy to navigate and modify code efficiently. Additionally, it has built-in Git integration, enabling seamless collaboration and version control within the editor.
Beyond its core features, Atom fosters an active and vibrant community. Developers can contribute to the continuous improvement of this editor tool by creating and sharing their packages and themes. The community-driven nature of the software ensures that the editor remains up to date with the latest trends and technologies, providing users with a dynamic coding environment.
Features & Highlights
Extensive customization options through packages and themes.
Auto-completion, linting, and language-specific tools for enhanced productivity.
Multiple panes and powerful search functionalities for efficient code editing.
Built-in Git integration for seamless version control.
Active community support and continuous improvement.
Screenshots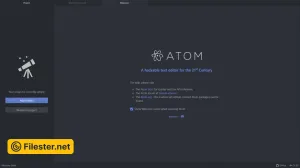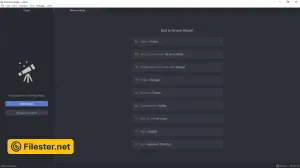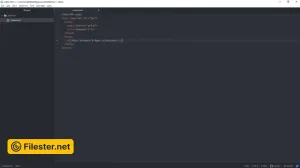 F.A.Q
F.A.Qs are not available yet!
Disclaimer
Filester is a software review and download website. We are against piracy and do not provide any serials, keygens, patches, or cracks for Atom or any software listed here.
We are DMCA-compliant, and you can request the removal of your software from our website through our contact page.