Opera GX for Windows
Opera GX is a web browser for gamers with built-in RAM, CPU, and network limiters. You can learn more and download the application from here.
87.0.4390.58
Latest Version
Description
Opera GX is a groundbreaking web browser specifically designed for gamers, offering a unique combination of speed, customization, and performance. Developed by Opera Software, this web browser is tailored to meet the needs of gaming enthusiasts, providing a seamless browsing experience without compromising on system resources. With its innovative features and gaming-focused design, Opera GX is the ultimate browser choice for gamers seeking optimal performance and customization options.
One of the standout features of Opera GX is its exceptional speed and performance. The browser is built on the same powerful engine as Opera, ensuring fast and efficient web browsing. Moreover, It includes advanced optimizations to prioritize gaming performance, such as resource limiters that allow users to allocate CPU and RAM resources to the browser, preventing it from impacting game performance. This dedicated focus on performance makes this gaming browser an ideal browser for gaming while ensuring a smooth browsing experience.
Opera GX offers a range of customization options to suit individual gaming preferences. The browser's unique design allows users to personalize their gaming experience with custom themes, colors, and wallpapers, creating a visually immersive environment. Additionally, this utility provides extensive control over browser tabs, including the ability to pin tabs, organize them into workspaces, and access them with a convenient sidebar. These customization features enable gamers to create a tailored browsing setup that complements their gaming style and preferences.
Opera GX embraces the gaming community by offering built-in features that enhance the gaming experience. The browser integrates popular gaming platforms like Twitch and Discord, providing quick access to live streams, chat, and notifications. This special web browser also includes a GX Corner feature, delivering gaming news, deals, and updates directly within the browser. Additionally, the browser's network limiter allows users to control bandwidth allocation, ensuring a smooth online gaming experience even while streaming or downloading in the background.
Features & Highlights
Exceptional speed and performance optimized for gaming.
Resource limiters allocate CPU and RAM resources for optimal gaming performance.
Customizable themes, colors, and wallpapers for a personalized gaming environment.
Integrated gaming features, including Twitch, Discord, and GX Corner, for gaming news and updates.
Network limiter to control bandwidth allocation for a smooth online gaming experience.
Screenshots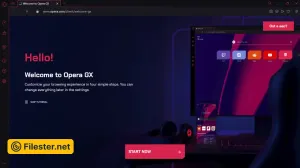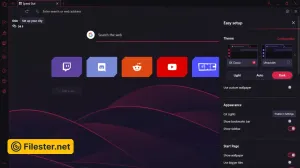 F.A.Q
What is GX Control in Opera GX?
GX Control is a feature that allows users to limit the browser's CPU and RAM usage, ensuring optimal system performance while gaming.
What is the network limiter feature in Opera GX?
The network limiter enables users to allocate bandwidth to the browser, prioritizing gaming and important applications to avoid network congestion.
Can I import bookmarks and settings from other browsers to Opera GX?
Yes, this software allows users to import bookmarks and settings from other browsers, making it easy to switch without losing your existing data.
Is Opera GX compatible with browser extensions?
Yes, It supports most Chrome extensions, allowing users to enhance their browsing experience with a wide range of available extensions.
Does Opera GX provide gaming news and deals?
Yes, the gaming browser offers a dedicated gaming news section, providing users with the latest gaming news, reviews, articles, and also highlights gaming-related deals and promotions.
Disclaimer
Filester is a software review and download website. We are against piracy and do not provide any serials, keygens, patches, or cracks for Opera GX or any software listed here.
We are DMCA-compliant, and you can request the removal of your software from our website through our contact page.