Nova Launcher for Android
Nova Launcher is a UI customizer app that lets you customize your home screen, icons, and folders. You can learn more and download the application from here.
Developer
Requirements
Android 4.0 or higher
Category
Last Update
July 17, 2022
Description
Nova Launcher is a highly customizable Android home screen replacement app that allows users to personalize and enhance the look and functionality of their devices. With its extensive customization options, intuitive interface, and smooth performance, Nova Launcher offers a seamless and feature-rich experience for Android users who want to take control of their home screen and create a unique user interface.
One of the standout features of Nova Launcher is its extensive customization options. Users can customize their home screen layout, icon appearance, animations, and gestures, creating a truly personalized and visually appealing interface. The app offers a wide range of icon packs and themes, enabling users to create a cohesive and stylish look that matches their preferences.
Nova Launcher offers a variety of customization features that enhance functionality and productivity. Users can add and organize app shortcuts, create custom folders, and utilize intelligent widgets to access information and perform actions directly from the home screen. The app also supports customized gestures, such as swiping or double-tapping, to launch specific apps or perform predefined actions, adding convenience and efficiency to daily device usage.
Beyond customization, Nova Launcher is known for its smooth performance and optimization. The app provides smooth scrolling, fast transitions, and a lightweight design that minimizes resource usage, ensuring a snappy and responsive experience. This launcher app offers backup and restores options, allowing users to save their customized settings and quickly transfer them to other devices or restore them after a reset.
Features & Highlights
Extensive customization options for home screen layout, icons, and animations.
Support for a wide range of icon packs and themes for personalization.
App shortcuts, custom folders, and intelligent widgets for enhanced functionality.
Customizable gestures for quick app launching and actions.
Smooth performance and optimization for a seamless user experience.
Screenshots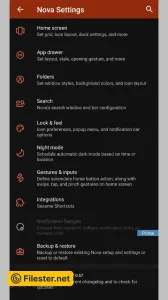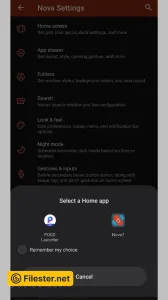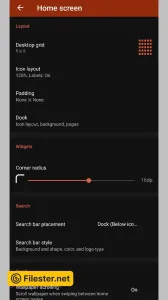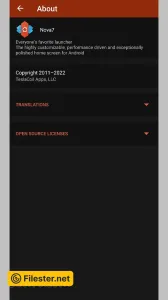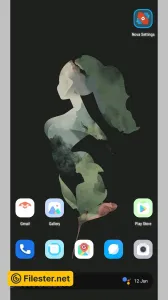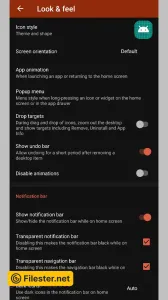 F.A.Q
F.A.Qs are not available yet!
Disclaimer
Filester is a software review and download website. We are against piracy and do not provide any serials, keygens, patches, or cracks for Nova Launcher or any software listed here.
We are DMCA-compliant, and you can request the removal of your software from our website through our contact page.