Skype for Windows
Skype is a communication tool for VoIP-based videotelephony, videoconferencing and voice calls. You can learn more and download the application from here.
Developer
Requirements
Windows XP/ Vista/ 7/ 8/ 10/ 11
Category
Latest Version
8.93.0.404
Last Update
January 20, 2023
8.93.0.404
Latest Version
Description
Skype is a leading communication platform that revolutionized how people connect and collaborate globally. Developed by Microsoft, this utility offers many features, including voice and video calls, instant messaging, file sharing, and video conferencing. With its user-friendly interface and reliable performance, this communication software has become famous for individuals and businesses seeking efficient and seamless communication.
One of the standout features of Skype is its high-quality voice and video calling capabilities. The platform ensures crystal-clear audio and smooth video, making it ideal for personal and professional calls. Users can connect with friends, family, and colleagues worldwide, bridging distances and enabling face-to-face interactions from the comfort of their devices.
Skype's instant messaging feature allows users to send text messages, emojis, and multimedia files quickly. Whether you share photos, documents, or links, Its real-time messaging ensures efficient and convenient communication. Additionally, the tool offers group messaging and supports group video calls, enabling seamless collaboration with multiple participants.
Beyond individual and group communication, Skype provides a powerful video conferencing solution. Users can easily host virtual meetings, webinars, and remote team collaborations. Its screen-sharing feature allows participants to share their screens, facilitating effective presentations and discussions.
Features & Highlights
High-quality voice and video calls for clear communication.
Instant messaging with text, emojis, and multimedia sharing.
Group messaging and video calls for seamless collaboration.
Video conferencing with screen sharing for virtual meetings.
Send documents, photos, or videos to other people in a call.
Screenshots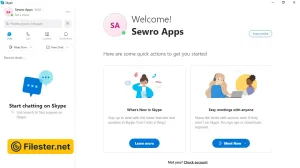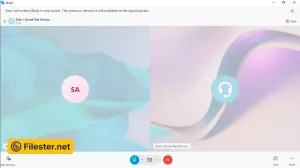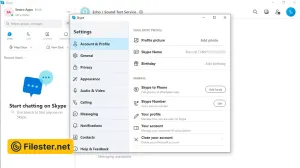 F.A.Q
F.A.Qs are not available yet!
Disclaimer
Filester is a software review and download website. We are against piracy and do not provide any serials, keygens, patches, or cracks for Skype or any software listed here.
We are DMCA-compliant, and you can request the removal of your software from our website through our contact page.